recent posts
London Hackspace has an RFID card entry system that lets people register whatever RFID card they have in order to unlock the door (Since we're in London, most people are using Oyster cards).
Since I got a Galaxy Nexus I've been interested in playing about with it's NFC support, which is a layer on top of the usual RFID stuff.
I've written an Android App that uses your phone to grab the serial from an RFID card and then add it to your Hackspace account. So if you've got a phone that supports NFC you can add your own card your self.
apk here:
http://pointless.net/~jasper/LHSSelfEnrole.apk
and code here:
http://pointless.net/hg/lhsselfenrole/
to use it:
install the apk.
run the App.
wave card at back of phone, observe serial number appear in 'serial' field.
enter LHS membership Username and Password in the supplied fields.
hit 'Go!'
relax and let technology do the rest for you...
I was hoping to be able to generate a random serial number and get the phone to pretend to be a card and use that to activate Doorbot, but I haven't worked out how to yet. (The android SDK really focuses on NFC stuff, not the lower level RFID things, so it might be a bit like trying to spoof a mac address from http).

;; ANSWER SECTION:
_xmpp-client._tcp.chat.facebook.com. 10 IN CNAME chat.facebook.com.
chat.facebook.com.      20      IN      A       66.220.151.99

xmpp clients will look for SRV records starting with _xmpp-client._tcp, since this is a CNAME they won't find it...
If rogue AI's developed and started wandering around what would they do?
They would skim value off of the human economy and use it for there own purposes.
And what would that look like?
The human economy would go stagnate as less profits were available to humans, financial markets would flat line, a bit like they are doing at the moment.
What other things might they do?
They would need computing power, lots of it, preferably massively parallel computing power.
And how could they persuade humans to assemble and deploy that kind of computing power?
They could persuade humans that (for example) there was a new currency called bit coins, and if the humans build massively parallel computers called 'mining rigs' then humans could get units of this new currency...
Has anyone checked that the code that's actually running on all those ATI 5850's is the code that we think is running on them?
:)
It wasn't actually the blockhosts script that was the problem, it was the tcpwrapper libwrap trying to convert text ipv6 addresses to ipv4 addresses, so I get a lot of these in the logs:

warning: /etc/hosts.allow, line 14: unable to convert [ipv6 address] to address

That's annoying but harmless.
What's more of the problem is that spamcop doesn't support ipv6 addresses in email headers, and since I have an ipv6 connection to my server when I'm at home and in the space I get most of my mail over ipv6.
So I can't report spam any more, not that it would of made much difference, but it was satisfying.
I've now got ipv6 glue in the roots for pointless.net, and changed to secondary nameservers that are on ipv6, and also do dnssec.
The only thing thats missing is that the blockhosts script (and anti ssh scanner script) dosn't seem to do ipv6 properly, I'll fix it when i get a chance.
I can really recommend the Hurricane Electric tunnel service, it's really straight forward to get running and the certification is a great learning aid.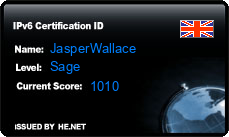 Archive by year:
2012
2011
2010
2009
2008
2007
2006
2005
Blog Posts by tags:
demos
android
openpandora
facebook
netbsd
spam
code
cacert
ipv6
sucks
ssl
weather
python
gps
hacks
bitcoin
techsupport
ccccamp
rfid
hacking
dnssec
tent
upgrades
ai
lhs
spf
smt
nfc
pointless.net
snmp
bugs
doomed
usb
xmpp
goscomb
t-mobile